A stark metaphor of a head-on collision has been used in my presentations and articles over the past 20 years to highlight a crisis in America.
Our crisis involves pervasive, senseless violence and reprehensible, disgraceful scandals.
America's alarming violent tragedies include school, campus, domestic, workplace, and terrorism.
Columbine, Virginia Tech, Newtown, Parkland, Uvalde and 9/11 immediately paint the sobering picture.
Our scandals are appalling and within every segment of society. Government, educational, corporate, sports, entertainment, and even faith-based leaders wreak havoc on society.
America is called to be the land of freedom, democracy, and security. Unfortunately, our head-on collision of violence and character crisis may intensify before our culture improves.
A Culture of Violence: Active Shooter and Mass Shooting Crisis
On Thursday, January 19, 2023, I presented my monthly remarks to 90 attendees of the Bergen County Police Chiefs Association in Wood-ridge, New Jersey.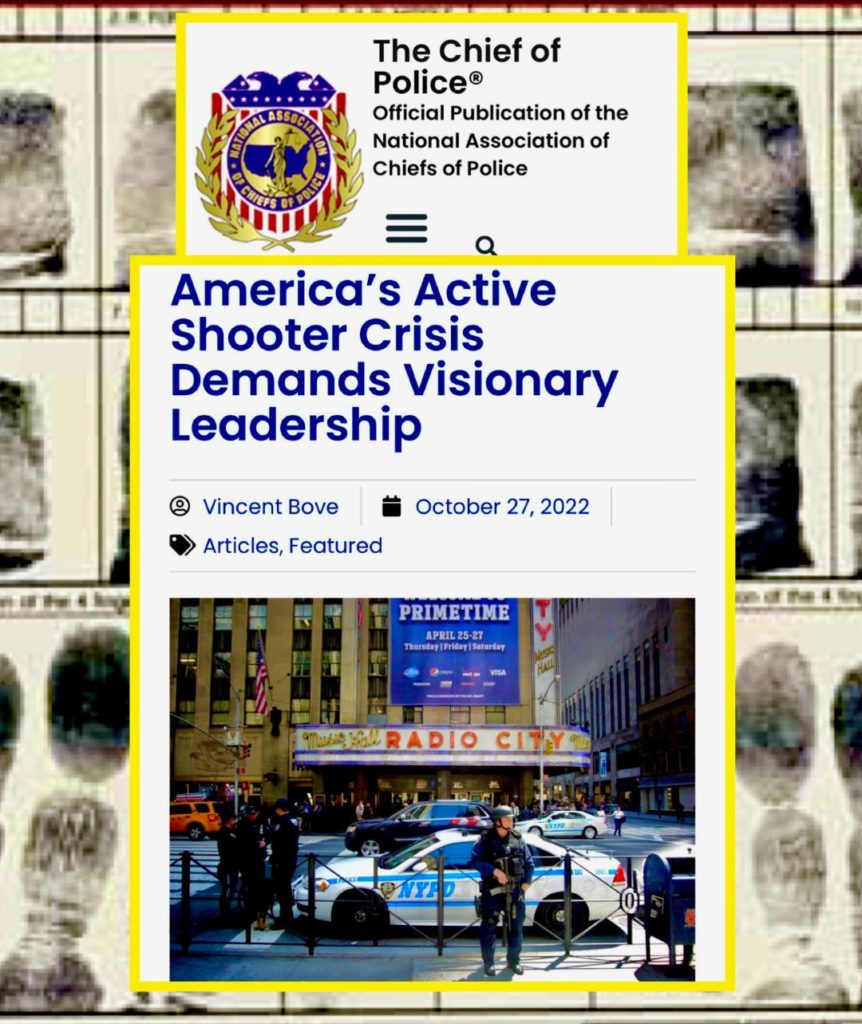 "These remarks, delivered for 21 consecutive years, address issues of ethical leadership, violence prevention, and public safety.
"At this event, my remarks focused on America's active shooter and mass shooting crisis, and as follows:
"America's culture of violence is inseparable from our emergence to a nation of trauma. The violence is horrifically illustrated by our active shooter and mass shooting pandemic.
"Some working definitions of each are in order.
"According to the FBI, an active shooter is an individual actively engaged in killing or attempting to kill people in a populated area." [i]
"The Gun Violence Archive, a nonprofit research group that tracks gun violence using police reports, news coverage and other public sources, defines a mass shooting as one in which at least four people were killed or injured.
"The Gun Violence Archive (GVA) counted 648 mass shootings in 2022, with 36 having four or more fatalities.
"The GVA recorded 690 mass shootings in 2021, with 28 involving four or more fatalities.
"According to the GVA, there were 610 mass shootings in 2020 with 21 having four or more fatalities. [ii]
"As of today, January 19, 2023, there have been 33 mass shootings in America, 4 or more people shot in one incident, so far this year, an average of more than 1 per day.
"The latest, 2 days ago in Salt Lake City, Utah, with a man shooting to death his wife, her mother, and their 5 kids before killing himself. Records show warning signs were present years before with investigations of child abuse, but prosecution was declined." [iii]
"Remain vigilant chiefs, as these are violent times here in America. Remember, your work is noble, necessary, and appreciated."
---
[i] Active Shooter Safety Resources
https://www.fbi.gov/how-we-can-help-you/safety-resources/active-shooter-safety-resources
[ii] https://www.gunviolencearchive.org/past-tolls
See also Mass Shooter Tracker https://massshootingtracker.site/data/?year=2023
[iii] Police investigated Utah man for abuse years before murder-suicide
https://www.pbs.org/newshour/nation/police-investigated-utah-man-for-abuse-years-before-murder-suicide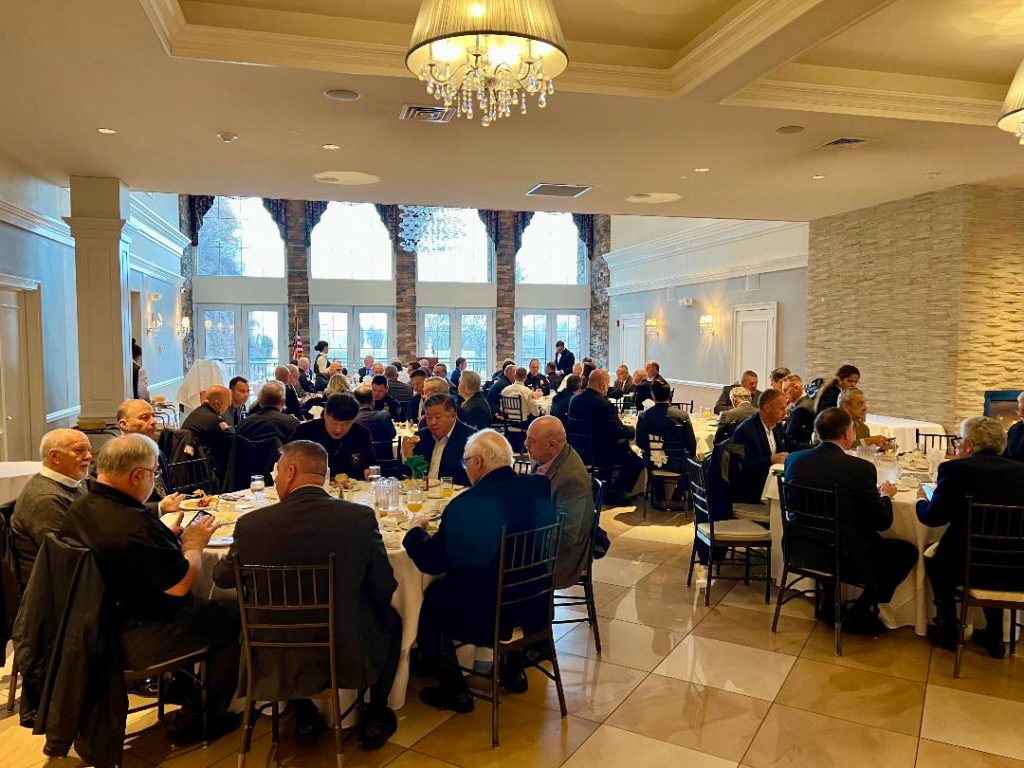 The following horrific tragedies, during last year and the beginning of this year, tragically highlight the violence:
Jan. 23, 2023, Half Moon Bay, CA
7 killed in apparent workplace violence shooting at two sites, a mushroom farm, and a related facility.
Jan. 23, Baton Rouge
12 injured in mass shooting at nightclub.
Jan. 23, Des Moines, IA
2 student's dead, employee in serious condition in shooting.
Monterey Park, CA, Jan. 22
At least 10 people are dead and another 10 hospitalized after a mass shooting according to the Los Angeles County Sheriff's Department.
The shooting happened at a dance studio near a Lunar New Year festival celebration.
HAZEL GREEN, AL, Jan. 19
After a woman was found dead during a welfare check in Alabama, her husband and two children were found dead in Tennessee in what is being investigated as a murder-suicide.
VISALIA, CA, Jan. 16
Six people — including a 17-year-old mother and her 6-month-old baby — were killed in a shooting early Monday at a home in central California.
Houston, TX, Jan. 15
One person was killed and four others were wounded when a carload of armed assailants unleashed a barrage of over 50 shots on patrons outside a suburban Houston nightclub early in the morning.
CLEVELAND, OH, JAN. 13
A man shot and killed his father, sister and nephew and injured a man and his 8-year-old daughter r.
HIGH POINT, NC, Jan. 9
A shooting that left five dead in North Carolina occurred when a man shot and killed his wife and his three children before killing himself.
ENOCH, UT, Jan. 5
Eight family members were found dead, five of whom were children, from gunshot wounds in their Utah home.
WASHINGTON, DC, Jan. 4
A man was killed and three people including an 8-year-old child were wounded in a Tuesday night shooting in Washington, D.C., police said.
Violence in 2022 Include:
STOCKTON, CA, Dec. 28
A man suspected in Northern California serial killings has been charged in four additional slayings this week, bringing the total to seven deaths since April 2021.
Chesapeake, VA, Nov. 22
A Walmart employee opened fire in a break room killing six people. The gunman was found dead, apparently from a self-inflicted gunshot wound, according to the police.
Colorado Springs, CO, Nov. 20
Five people were killed and 17 injured by a gunman at an L.G.B.T.Q. nightclub.
Charlottesville, VA, Nov. 13
Three University of Virginia football players were killed and two were wounded when a gunman, a former football player, opened fire in a garage after a field trip.
Moscow, ID, Nov. 13
Four students at the University of Idaho were found dead near campus in what a local official described on Monday as a "crime of passion."
Raleigh, NC, Oct. 13
A gunman, described by authorities only as a "white male juvenile," killed five people, including an off-duty police officer, and wounded two others.
The Brooklyn Subway Shooting, Apr. 12
A gunman unloaded 33 bullets into a subway car in New York City's Sunset Park neighborhood, leaving several people injured.
Memphis, TN, Sept. 7
Memphis was locked down during an hour's long manhunt for a gunman who killed four people while streaming some of the violence on Facebook Live. The rampage included several shootings and carjacking's during the day.
Greenwood, ID, July 17
A 20-year-old gunman opened fire in a mall food court, killing three people and wounding two others.
Highland Park, IL, July 4
Seven people were killed and dozens more, ranging in age between 8 and 85, were wounded by a gunman. The killer climbed onto a rooftop with a rifle and begun firing into a crowd gathered for a Fourth of July parade.
Newark, NJ, June 30
Nine people were shot and wounded in what the police said appeared to be a stolen car incident.
Harlem, NYC, June 20
A 21-year-old was killed and eight people were wounded in an early-morning shooting at a popular picnicking area.
Philadelphia, PA, June 4
Three people were killed and 12 injured in a shooting in downtown Philadelphia.
Another six people were killed and dozens were injured in several other shootings over the same weekend, including in Arizona, South Carolina, Tennessee and Virginia.
Tulsa, OK, June 1
Five were killed, and several others shot at a medical building near Saint Francis Hospital.
Uvalde, TX, May 24
A gunman killed 19 children and two teachers at Robb Elementary School in Uvalde, Texas, about 80 miles west of San Antonio.
A Crisis of Character
The rampant corruption, leadership deficiency, and scandals are within every segment of American life.
The scandals include these recent events posted on the FBI website under Public Corruption News:
01.19.2023 Edward Mullins, Former President of NYPD Sergeants' Union, Pleads Guilty To Defrauding Union And Its Members (Department of Justice Statement) [i]
"Edward Mullins promised to look out for the thousands of hard-working NYPD Sergeants who are members of the SBA. Instead, as admitted today in federal court, he stole hundreds of thousands of dollars from them to fund his lavish lifestyle." U.S. Attorney Damian Williams
01.19.2023 Three Men Sentenced for Roles in Bribery Conspiracy
"As this prosecution demonstrates, the Department of Justice is committed to prosecuting public officials and their enablers who award infrastructure contracts based on corrupt connections instead of merit." Assist. AG Kenneth A. Polite, Jr., Justice Department.
01.11.2023 Former Louisiana State Senator and Chair of State Political Party, Sentenced to 22 Months Imprisonment for Role in Nearly Seven-Year Scheme to Defraud Campaign Entity, Donors, and Political Party Organization
"Former State Senator Peterson illegally used campaign funds and state political party funds for her personal use during the majority of her tenure as a state senator. She broke the law, deceived contributors, and violated her duty to the voters and the political party with which she was affiliated on dozens of occasions. Such crimes feed public frustration, cynicism, and civic disengagement." United States Attorney's Office
01.06.2023 Former West Virginia Parole Officer Pleads Guilty to Federal Civil Rights Offense for Sexually Assaulting Female Parolee
"The defendant abused his position of power and trust by sexually assaulting a vulnerable woman who was trying to re-enter society," said U.S. Attorney Will Thompson for the Southern District of West Virginia. "This immoral and illegal conduct will not be tolerated in this District.
01.06.2023 Former Senior Athletic Department Administrator at the University of Southern California Sentenced to Six Months in Prison in College Admissions Case
"For approximately four years, Heinel misled USC's athletic admissions subcommittee by presenting the students as recruits to USC's athletic teams when, in reality, the coaches had not recruited them and some did not even play the sport they were purportedly being recruited to play. In some cases, Heinel falsified students' athletic credentials when presenting them to the athletic admissions subcommittee. In exchange, Heinel received more than $1 million in payments from Singer and his clients to university accounts she oversaw."
01.06.2023 Ex-Correction Officer Charged with Accepting Bribes to Smuggle Contraband into Rikers Island Jail
"The corruption of correction officers undermines the orderly running of the institution and endangers the safety of other incarcerated individuals and Department of Correction personnel," stated United States Attorney Peace. "We will continue to prosecute those who enrich themselves instead of serving the public and work with our federal and local law enforcement partners to stop the flow of illegal narcotics and other contraband into correctional facilities."
01.06.2023 Enumclaw, Washington Woman Sentenced for Criminal Scheme to Steal Flood Control Tax Dollars
"Allan and Joann Thomas didn't just defraud their neighbors by stealing tax dollars, they abused a position of public trust, eroding faith in government," said U.S. Attorney Nick Brown. "The Thomas' theft caused some 700 neighbors in Enumclaw to pay higher property taxes, which many can ill afford, and for which they got no services."
01.05.2023 Former Judge Arrested for Bribery and Obstruction of Justice
"A former local district court judge in Arkansas was arrested today in Little Rock on criminal charges related to his alleged solicitation of sex in exchange for agreeing to take action on a criminal case pending before his court."
01.03.2023 Four Muncie Public Officials, a Former Police Officer, Two Contractors, and a Private Citizen Convicted and Sentenced for More Than $3 Million in 'Pay to Play' Schemes
"The citizens of Muncie placed their trust in a small group of government officials—many of whom were on a first-name basis with their constituents. This systemic public corruption not only resulted in more than $1.5 million of taxpayer money lost, but also caused immeasurable distrust in local government," said Zachary A. Myers, U.S. Attorney for the Southern District of Indiana. "These prosecutions and sentences demonstrate that 'pay to play' schemes will not be accepted as the way governments do business…
"Ultimately, greed caught up with these defendants and they were held accountable for it. The citizens of Muncie deserved better and hopefully the dedicated work of our agents to uncover this systemic corruption will help restore public trust," said FBI Indianapolis Special Agent in Charge Herbert J. Stapleton.
01.03.2023 Former Wayne County Employee Pleads Guilty to Stealing More Than $1.7 Million in County Funds
"The actions of this individual are nothing short of disgraceful," said Sheriff Raphael Washington. "To brazenly steal from hardworking taxpayers and fraudulently line his own pockets while holding positions of public trust make these crimes all the more deplorable."
12.27.2022 Third Former Correctional Officer Charged in Cover-Up at CSP-Sacramento Arrested and Five Count Indictment Unsealed
"According to the Indictment, Villa was a correctional sergeant supervising other officers at California State Prison – Sacramento when correctional officer Arturo Pacheco unlawfully assaulted an inmate under color of law. Villa and other officers, including Pacheco and Ashley Aurich, assisted in covering up the details of the assault by submitting false reports. Villa also lied under oath to the federal grand jury investigating the incident."
12.22.2022 Four Local 98 Employees Plead Guilty to Illegal Use of Union Assets
"United States Attorney Jacqueline C. Romero announced that Michael Neill, 56, Marita Crawford, 53, Niko Rodriguez, 31, and Brian Fiocca, 31, all of Philadelphia, Pennsylvania, and all employees of Local 98 of the International Brotherhood of Electrical Workers ("Local 98"), entered pleas of guilty this week before United States District Court Judge Jeffrey Schmehl to federal charges arising from their personal use of the assets of Local 98 in ways that did not benefit the membership of Local 98 as a whole, including embezzlement of labor union assets, wire fraud, and theft from a union employee benefit plan."
Safeguarding American Communities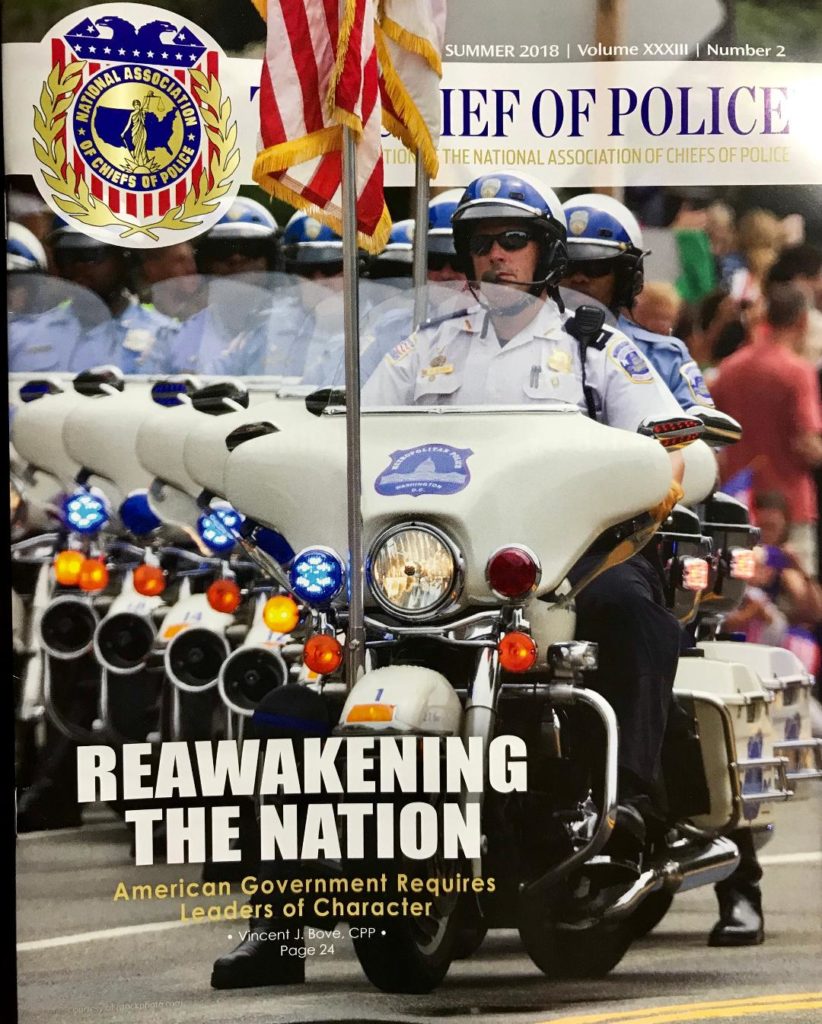 America's flag continues to fly at half-staff too often due to violent rampages.
Visionary leadership must inspire vigilance and collaboration to prevent violence. We must have the determination, commitment, and courage to protect ourselves and others.
Training initiatives, security assessments, sound security measures, building police-community partnerships, professional security personnel, and responding effectively to warning signs are a few of the critical safeguards against active shooter tragedies.
These pillars must be inseparable from securing our communities against mass shooting tragedies and essential to reawakening the nation.
Character: Essential to America's Ethical Renaissance
Regarding our crisis of character, the heart of America demands virtue. It is the only antidote to our current crisis of moral decency.
Character is the virtue which animated the great leaders in our history.
The resuscitation of our character is our responsibility. Character must be cultivated and inspired in our homes, workplaces, courts, communities, social media activities, and government.
It took time for America to reach this crisis point, and it will take time for our recovery. Our recovery will only be successful when we make character education a priority in our schools.
American Students: The Future of the Nation
Our youth deserve inspiration from our educators, as they must carry the torch of character and cultivate a renaissance of ethical behavior.
A reality of our educational system is that millions of students spend exorbitant time hearing lectures, writing papers, memorizing facts, and pushing themselves with extracurricular activities. This would be a tragic waste of time if instilling character is not the heartbeat of the educational community.
Our educators, through the power of good example, kindness, respect, affirmation, and encouragement, must inspire character into the heart of America's students.
---
Final Reflections: Law Enforcement, Vital to Character Development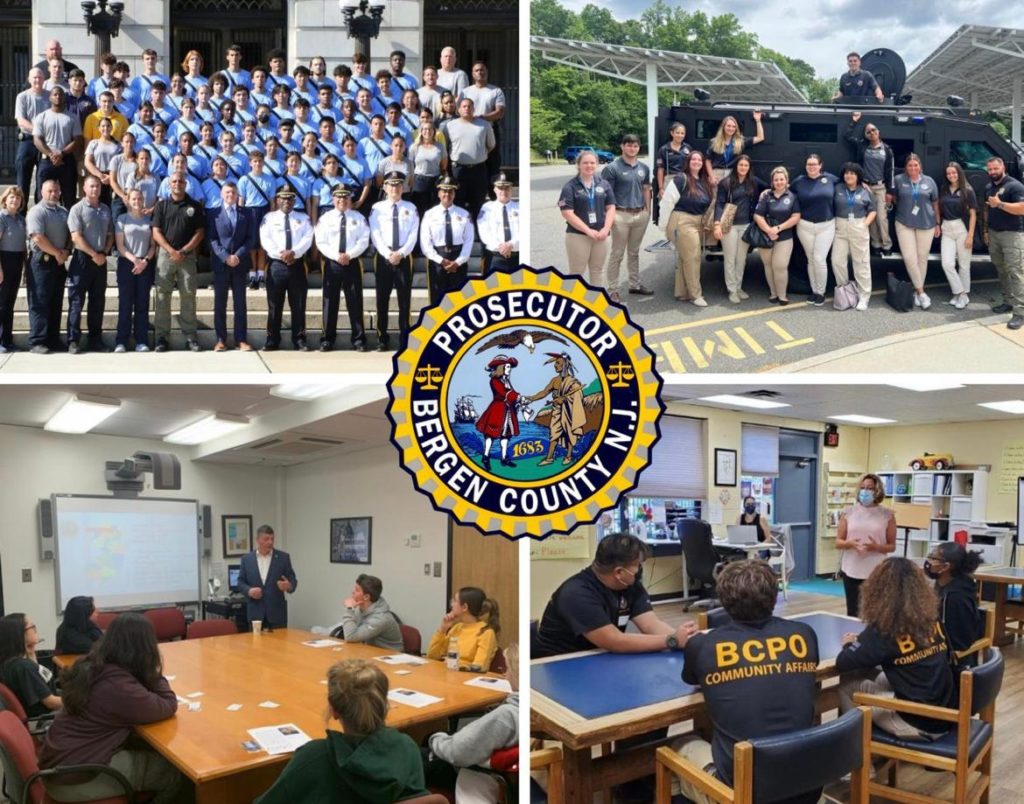 Law-enforcement agencies also have a golden opportunity for youth character development through the communities and schools.
One outstanding example of success is the student mentorship programs of the Bergen County Prosecutors Office as noted with this recent Twitter posting:
During #NationalMentoringMonth, #BCPONJ wants to raise awareness of our mentorship programs. For high school students, we offer the Youth Police Academy plus school presentations by Prosecutor Mark Musella on the diversity of careers in law enforcement. Also offered is an internship program for college and law school students where they work closely with our criminal justice professionals. Through these programs, students gain valuable experience and create relationships for future opportunities. For more information, visit www.BCPO.net
Note Well: A Partial List of Mass Shootings in the United States in 2022
https://www.nytimes.com/article/mass-shootings-2022.html May 24 – Nov. 22, 2022, listings are paraphrased from NYT article.
RELATED ARTICLES / REFERENCES:
FBI Public Corruption https://www.fbi.gov/investigate/public-corruption
Related: School Violence: Toxic Personalities, Warning Signs, Countermeasures
SPECIAL REPORT: AMERICA'S SCHOOL VIOLENCE CRISIS
America's Active Shooter Crisis Demands Visionary Leadership
Safeguarding America's Protectors: A Community Responsibility
Echoes of Columbine: School Violence Awareness and Prevention
American Government Requires Leaders of Character
http://vincentbove.blogspot.com/2018/05/american-government-requires-leaders-of.html
America's Schools: Security, Character, Academics
http://vincentbove.blogspot.com/2016/08/americas-schools-security-character.html
America's Head-On Collision: A Crisis of Violence and Scandals
http://vincentbove.blogspot.com/2014/10/americas-head-on-collision-crisis-of.html
America's Mass Shooter Crisis Demands Police-Community Unity
http://vincentbove.blogspot.com/2021/08/americas-mass-shooter-crisis-demands.html
Mass Shootings, Police Fatalities: America's Culture of Trauma http://vincentbove.blogspot.com/2016/03/mass-shootings-police-fatalities.html
Resources
[1] Active Shooter Safety Resources
https://www.fbi.gov/how-we-can-help-you/safety-resources/active-shooter-safety-resources
[1] https://www.gunviolencearchive.org/past-tolls
See also Mass Shooter Tracker https://massshootingtracker.site/data/?year=2023
[1] Police investigated Utah man for abuse years before murder-suicide
https://www.pbs.org/newshour/nation/police-investigated-utah-man-for-abuse-years-before-murder-suicide [1] https://www.justice.gov/usao-sdny/pr/edward-mullins-former-president-nypd-sergeants-union-pleads-guilty-defrauding-union-and
[i] https://www.justice.gov/usao-sdny/pr/edward-mullins-former-president-nypd-sergeants-union-pleads-guilty-defrauding-union-and